Description
These Strong, Stable, and Versatile RV Cargo Box Support Arms Fit 4.0, 4.5, 5.3, and 6.0-Inch Square Bumpers

Innovative Adjustable 2-Piece Bracket Fits Many Bumper Sizes: 4.0, 4.5, 5.3, and 6.0 Inch and More
Easily Mount Your Favorite Cargo Box or Toolbox to Your RV Bumper; Cut to Desired Length
Use Multiple Sets of These Steel Cargo Carrier Support Arms To Carry More Weight
Each Set of Supports Carries 200 Pound-Feet when Rigidly Mounted to Box or Tray
Made in USA Using High Quality Metals, Treatments and Coatings Which Resist Rust & Look Great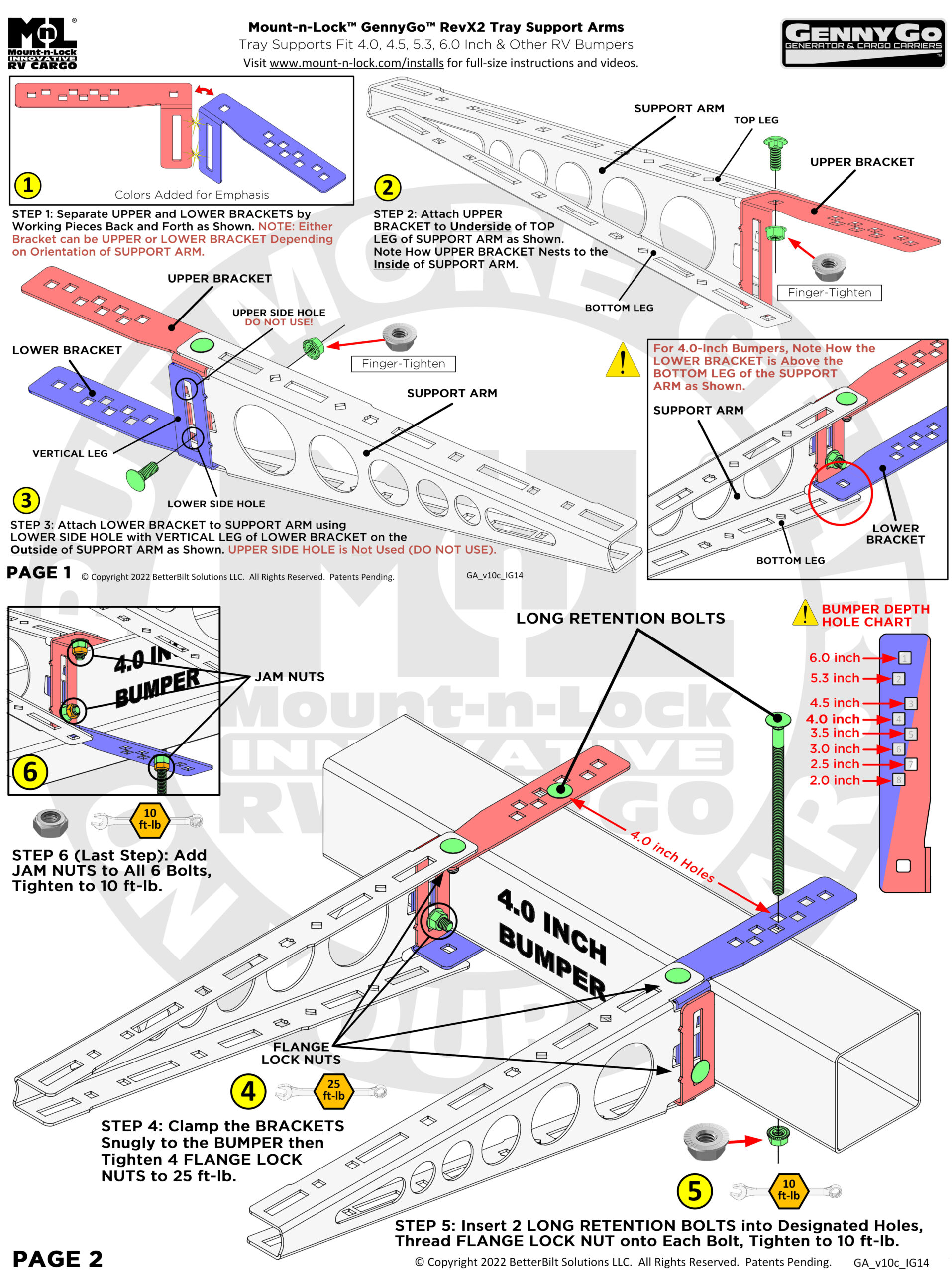 Can I Mount My Generator to My RV Bumper Using These Cargo Carrier Tray Arms?
Most generators have a rigid frame, so as long as the generator frame is bolted directly to the the tray arms at four widely-spaced points (two points on each arm), you can enjoy the full cargo-carrying capacity listed below. If you wish to carry the generator on it's four feet (typically done to dampen the vibration), we encourage you to consider using our GennyGo™ RV Bumper-Mounted Generator & Cargo Carrier Trays with Support Arms. We recommend that whatever is mounted across the cargo carrier tray arms provide rigidity. A simple example of this is a cargo box like those shown below as they have a solid, rigid bottom.
Product Features
Attractive glossy black powder coated steel
Mount arms where desired and use multiple sets for wide or heavy loads
View tray arm dimensions here
Tray arms clamp to 4, 4.5, 5.3, and 6 inch square bumpers; eliminating shake, rattle, and roll
Manufacturer's limited lifetime warranty
Product Specifications
Length: 20 Inches (from bumper to tip)
Width: 2 Inches
Weight: 5-1/2 Pounds
Cargo Capacity: 200 pound-feet per rigidly-mounted arm pair
Material: Steel or Aluminum
Your Order Includes
1 Pair of GennyGo™ RevX RV Bumper-Mounted Cargo Box and Tray Supports
Corrosion-Resistant Mounting Hardware

*Results vary based on age and condition of the bumper, frame, and vehicle.